<-- Back to
AG_Intro.3
---
SYNOPSIS
#include <agar/core.h>
#include <agar/gui.h>

---
DESCRIPTION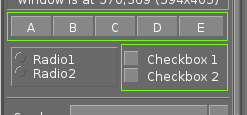 The AG_VBox widget is a variant of AG_Box(3) which packs its children vertically.
---
INHERITANCE HIERARCHY
---
INITIALIZATION

AG_VBox * AG_VBoxNew (AG_Widget *parent, Uint flags)

void AG_VBoxSetHomogenous (AG_VBox *box, int homogenous)

void AG_VBoxSetPadding (AG_VBox *box, int padding)

void AG_VBoxSetSpacing (AG_Box *vbox, int spacing)




The AG_VBoxNew() function allocates, initializes, and attaches a new AG_VBox widget. Acceptable flags include:
| | |
| --- | --- |
| AG_VBOX_HFILL | Expand horizontally in parent (equivalent to invoking AG_ExpandHoriz(3)). |
| AG_VBOX_VFILL | Expand vertically in parent (equivalent to invoking AG_ExpandVert(3)). |
| AG_VBOX_EXPAND | Shorthand for AG_VBOX_HFILL|AG_VBOX_VFILL. |

The AG_VBoxSetHomogenous() function defines whether avialable space is divided evenly between attached widgets.

The AG_VBoxSetPadding() function sets the padding around the group of child widgets to padding pixels. AG_VBoxSetSpacing() sets the spacing between individual child widgets to spacing pixels.
---
EVENTS
The AG_VBox widget does not generate any event.
---
SEE ALSO
---
HISTORY
The AG_VBox widget first appeared in Agar 1.0.