About Agar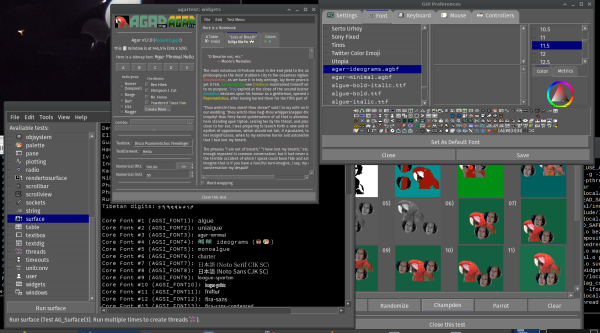 LibAgar is a cross-platform GUI system. It provides a base framework and a standard toolkit of widgets from which high-performance, portable graphical applications can be built.
The toolkit is extensible through class registration. A powerful style engine allows precise control over the appearance of elements. Agar applications work under X Windows, MS Windows, MacOS, SDL (1.2 and 2.0) and others. It can attach to an existing graphical context and work as a self-contained window manager. Agar is fully thread-safe when built with threads support.
Agar is open-source software. Its source code is freely usable and Re-usable by everyone under a permissive BSD License and its Core Fonts are released under the OFL. The best available version is v1.7.0.
05/02/2023
05/02/2023
Released agar v1.7.0 "Ancient Egypt" (ChangeLog)
02/26/2023
02/26/2023
Mailing lists have moved from the previous @lists.csoft.org domain over to @libagar.org. The Help page has been updated.
02/04/2023
02/04/2023
New installation guide: Installing Agar on Windows with MSYS2.
01/19/2023
01/19/2023
The performance of the Subversion Server has been improved thanks to recent WebDAV module updates.
12/20/2022
12/20/2022
The quality of the Printable Version of the manual has been improved.
12/12/2022
12/12/2022
SDL2 support is in beta testing phase and will be included in the upcoming 1.7.0 release.
06/04/2021
06/04/2021
New tutorial: 1. Minimal "Hello world".
05/16/2020
05/16/2020
Released agar v1.6.0 "Nullability Complete" (ChangeLog)
04/23/2020
04/23/2020
Updated official public KEYS file.
02/03/2020
02/03/2020
Created the LibAgar Discord. The channel is linked by bot to #libagar on irc.libera.chat.
09/01/2019
09/01/2019
Updated Mat's Perl bindings (p5-Agar).
08/09/2019
08/09/2019
Set up the new Patreon at https://patreon.com/libagar
06/05/2019
06/05/2019
Updated Ada bindings for CORE (the GUI base is almost complete, and widget APIs remain).
05/28/2019
05/28/2019
Added link to the official Github page: https://github.com/JulNadeauCA/libagar
11/26/2018
11/26/2018
Updated: Installing Agar on Linux.
"A display connected to a digital computer gives us a chance to gain familiarity with concepts not realizable in the physical world. It is like a looking glass into a mathematical wonderland."

-- Ivan Sutherland